Our standard Chutes are fabricated of 16 gauge galvanized steel.  Custom installations are made from standard parts.  One expansion joint per floor. Flush interiors are free of bolts, rivets, or clips protruding into the chute opening.  Standard diameter is 24" however chutes can be manufactured from 18" to 36".
Standard vents are 16 gauge galvanneal steel extending through the roof in full diameter to a point 4' above the roof.  An explosion cap is provided as well as any needed customization.
To accommodate various building configurations offsets can be manufactured.  Double or single offsets of any length can be designed.  12 gauge impact plates are welded inside the offsets.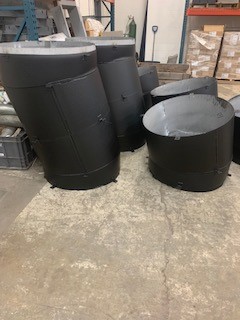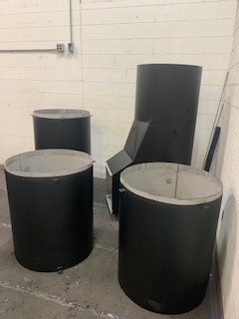 Sound Dampening
Compound Applied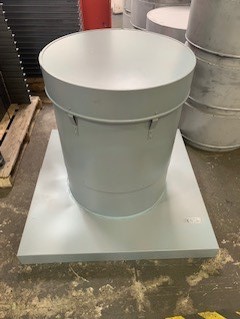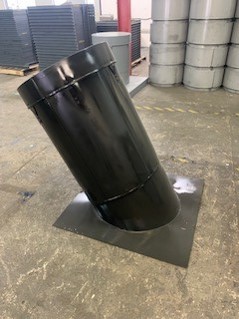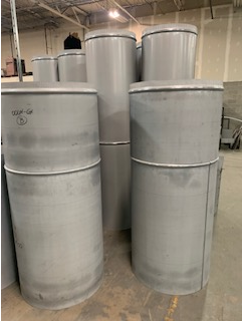 A-Door:
Discharge doors are designed to seal the chute in the event of fire. Inclined rolling discharge door with the door panel constructed as a 90 minute B-Label panel.  It has a maximum temperature rise of 250 degrees F over 30 minutes. The door does not carry a B Label.  No trash chute discharge doors or shutters by any manufacturer are tested for this application.  The door is held open with a 165 degree fusible link.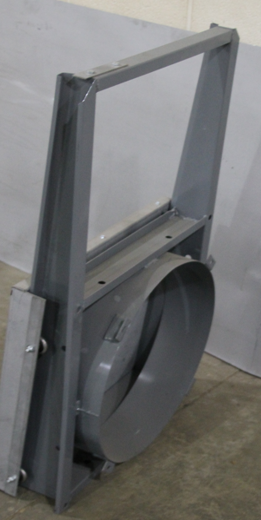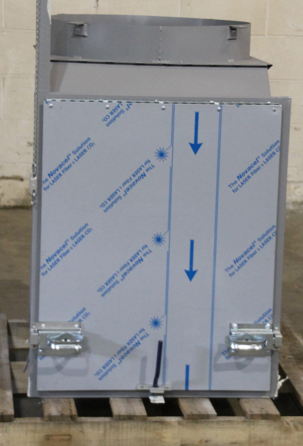 Hopper Door:
Ninth edition series door, high top hinged, with 165 degree fusible link hold open spring.  Certified to UL 10-B.  Uses two horizontal door latches per opening. Door comes with 90 degree hopper discharge including 2" IPS drain flange for connection by others and adjustable pedestal support.
Floor Support:
Chute support clips provided at each floor are factory pre positioned to assure proper chute alignment.  Structural frame fabricated of either 1 ½" x 1 ½" x 3/16" or 2" x 2" x ¼" angles.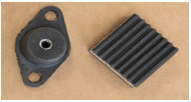 ISO pads remove noise
caused by vibration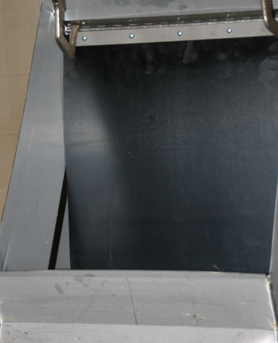 Rubber baffles
At Chute opening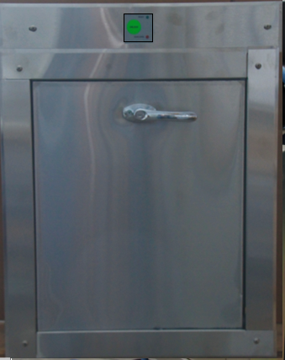 Doors:
Chute Source ninth edition series, hand operated, self-closing intake door with 22 gauge stainless steel front. Certified to UL 10B, with a 250 degree F maximum temperature rise over 30 minutes.  Doors all use the Chute Source Fire-Safe latching system with enhanced latch bolt retention, and permanent retention during a fire scenario.  Stainless steel trim is typically provided.
Doors can be bottom or side hinged. Doors can be manufactured to the following sizes:


Handles:
There are three basic styles of door handles.
"T", Thumb Latch, or "L" handles.